Video One Views: 1,477
Current Video Rating: 8.50 with 6 rates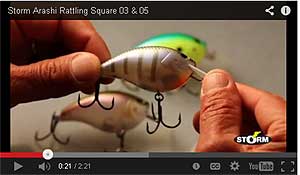 Click above image to view video player

Storm Arashi Rattling Square Bill Crankbaits
Stocked item, average ship time: same/next business day

Based on the super cranking successful Silent Square 3 & 5, the Rattling models feature a multi-ball rattle system that precisely imitates the sound of baitfish feeding in the shallows. Key design features previously only found in expensive, custom lures gives anglers a true edge when fishing an Arashi lure. Both models run with a lively rolling action and a pronounced tail kick. Built-in buoyancy to back out of cover with a square lip design for increased deflection is the perfect match for contacting structure. Premium Black Nickel VMC® Hooks.

MULTI-BALL RATTLE SYSTEM delivers a higher pitch and raspy tone imitating shallow water baitfish

ROTATED HOOK HANGERS nests the hooks close to the body for improved action, preventing hang-ups and allowing larger hooks
SELF-TUNING LINE TIE is a free-moving design that keeps the lure tracking true, ensuring non-stop fishing action (Patent Pending)

CIRCUIT BOARD LIP starts right away at slow speeds and quickly reaches maximum diving depth. Extremely thin with superior strength and durability

Sizes:

Square 3


Length - 2 1/8" (5.5cm)
Weight - 1/2 oz (14g)
Diving Depth - 3 ft (0.9m)
Hooks - #4

Square 5


Length - 2 3/8" (6cm)
Weight - 5/8 oz (18g)
Diving Depth - 5 ft (1.5m)
Hooks - #2

Sale Pricing Notes: 25% OFF Weekly Special!!! Limited Time Only!!!

Change quantities to order, then click the "add to cart" button below